Why N matters ?
Because Nitrogen Markets are underlooked
Because N  is an essential basic element that is playing a major role  in the chlorophyll process of plants; corn, cereals, rice, tropical crops just to name a few.
Because most importantly N is making the difference in producing food for 7 Billions of humans and soon one more Billion in 2020, isn't a good reason  !
N is by far the most abundant element in our atmosphere but Aerobic Nitrogen is useless for Green plants because Green plants can't processed Aerobic Nitrogen ( Nitrogen gas in the air).
A green plant can only take up nitrogen in two solid forms: ammonium ion (NH4+ ) and the  ion nitrate (NO3– )
A natural N cycle (mineralization, nitrification…) exists in the nature but this natural N cycle just can't sustain the fast pace of the modern agriculture.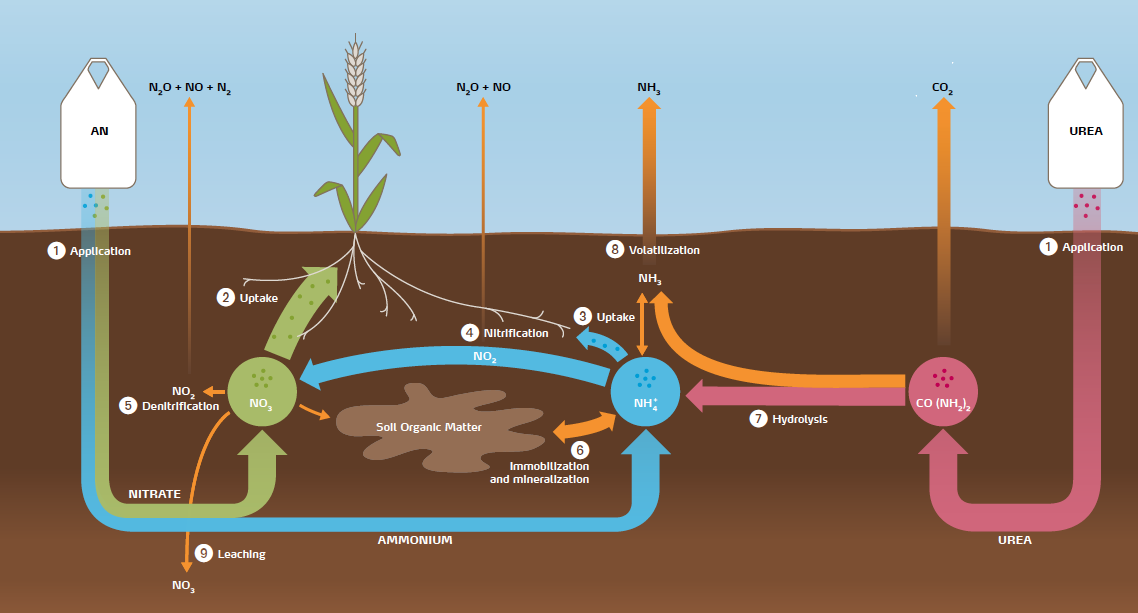 http://www.physicalgeography.net/fundamentals/9s.html
Dad – What is Nitrogen Made From?
Nitrogen is a man-made fertilizer so you can say that a big part the food production starts at the ammonia factory.
I'm not a chemist but Nitrogen fertilizers are made by using natural gas for hydrogen, and nitrogen gas from the air, to form anhydrous (means; "without water" ) Ammonia as the end product.
This ammonia is used as a feedstock for two other common nitrogen based fertilizers, such as  ammonium nitrate (35-0-0) and urea (45-0-0)
These concentrated products may be diluted with water to form a concentrated liquid fertilizer (UAN).
For the sake of the simplicity I will refer Nitrogen (N) for the rest of this text.
Nitrogen Markets & Pricing
In the North American farm crop fertilizer market, the N segment is dominated by large-scale ammonia synthesis plant's economics of scale, that are in turn supported by attractive unit train rates
The nature of this business is very logistical because the fertilizer demand is very seasonal, N has to be in the grain field on a specific time frame.
In the U.S the fertilizers are consumed in the Midwestern Corn Belt within a very short time frame in the fall and again in the spring.
Nitrogen synthesis production costs are 80%-90% related  to the natural gas price that's why Nitrogen should be coined as NG-N !
Historically, the "Market depth" and liquidity, price discovery are so thin in the fertilizer market, overshooting is more than frequent.
The farmer approach about fertilizer has always remained to be very cautious because of lack of alternative options they have.
In this market it is not rare to see 70$ bid-ask spread on a 500/ton products [in Corn, the bid-ask spread for per metric ton is low as 30 cents].
The U.S Nitrogen market structure is a result of a supply compression between 2000 and 2007 after years of turbulence in the U.S natural gas prices.
Since Fertilizer is global market and there was turbulence in the U.S natural gas market, it was natural for a company to build a world scale supply and logistic chain to serve the U.S markets with imports rather than build new plants in the U.S at a high production cost.
In the early 2000s, the N demand was on the rise but the new supply capacity was coming  from countries such Trinidad and Tobago.
 When natural gas price are high,  you can't run inefficient plants because you can't make the break-even.
Nitrogen has been under the radar for more than 15 years.
In a  very under-invested market, it is normal to see price overshooting when the demand is picking up.
Nitrogen Markets & Pricing
Source: USDA ERS data
 NG-N  or Natural Gas Nitrogen
With the shale gas production and depressed natural gas prices new supply capacity from greenfield project and plant expansions will hit  the U.S. Market.
CHS Inc. plans to build a $1.2 billion anhydrous ammonia plant in eastern North Dakota, taking advantage of the state's abundant natural gas supplies to satisfy rising demand for fertilizer

Natural gas prices are now at about $2.50 per thousand cubic feet. At those prices, it takes about $82 worth of natural gas to make a ton of anhydrous ammonia, which is selling for about $800 per ton.

"You know there's some potential there for some profit to be made," Dalrymple said.

Casale said despite the favorable outlook for fertilizer manufacture, "this was a very big decision for our board of directors to take. This is the largest … single investment we're about to make in the history of the company."

http://www.businessweek.com/ap/2012-09-13/1-dot-2b-fertilizer-plant-planned-for-eastern-nd
Planning continues for the CHS nitrogen fertilizer plant:
Many of the American nitrogen fertilizer plants shut down around 2005 when the cost of natural gas rose. At the same time the demand for nitrogen fertilizer increased, especially in the Northern Plains, as corn acres continued to increase.

"The corn acres are moving north and west," he said. "There is more nitrogen used for corn crops than for small grains."

This led to the bulk of the nitrogen fertilizer used in this region to be imported from the Middle East, according to Dan Mack, vice president for operations and transportation for CHS. Imported fertilizer takes about 77 days to reach North Dakota and travels by ship from the Middle East, across the Atlantic Ocean to Galveston, Texas and then by rail to North Dakota.

"We expect the importation of fertilizer to drop by 2016," Mack said. "The U.S. can compete favorably if natural gas prices stay low."

Rail and trucks will be used to ship the nitrogen around the region. The mix of trucks and rail cars will vary but each year it would require about 10,000 rail car loads to haul about 60 percent of the nitrogen with between 25,000 and 35,000 truckloads required to haul the remaining 40 percent.
NOTE: N is found is many natural gas well, is one impurity that must be removed out from the gas to meet pipelines specs.
N is a co-product that has value for a natural gas processing plant.
Abrebon Ethanol-Nitrogen (EN) Co-production
Project development is in the financing stage for a nitrogen fertilizer facility to be co-located with Tharaldson Ethanol Inc., a 153 MMgy facility located in Casselton, N.D. The fertilizer plant would produce urea, anhydrous ammonia and UAN (urea ammonium nitrate) from biogas produced from ethanol stillage.
Scott Dyer, chief science officer and co-owner of Colorado-based Agrebon Inc., said an agreement with business development partner, Progressive Nutrient Systems, is in place and the agreement with Tharaldson is near completion. North Dakota-based Leading Edge Angel Fund LLC is in the process of raising equity funds, to supplement local investment. If all proceeds as expected, the project could break ground by midsummer and due to the use of prefabricated components, be operational six months later.
The distributed fertilizer production process developed by Agrebon utilizes well-known technology from the large-scale production of nitrogen from natural gas, substituting biogas produced in an anaerobic digester. The challenge has been to downsize the technology to match the available biogas resource. "We're creating nitrogen out of the ethanol plant's stillage, removing the insolubles and oil through an anaerobic digester to make biogas and returning the water as backset with only the minerals remaining," Dyer explained. The biogas is then processed on-site into nitrogen, some of which goes back to the ethanol process as yeast nutrients.
For every 25 MMgy of ethanol produced, the Agrebon system is able to produce 11.5 million pounds of nitrogen, Dyer continued. "Which is roughly 1 pound of nitrogen for every bushel of corn used and removes that carbon footprint," he said. Dyer also points out that reducing the carbon footprint is going to become important for corn ethanol producers wanting to add incremental gallons. While their current production was grandfathered in under the revised renewable fuel standard, new gallons must meet greenhouse gas reduction thresholds.
Agrebon and Progressive Nutrient Systems expect the fertilizer products to be cost competitive, largely due to the local production model which eliminates shipping costs. The market radius for nitrogen produced in the facility will nearly match the corn supply radius for the ethanol facility, he added.
Pilot scale testing, economic modeling of the process, and an engineering review were done at the University of North Dakota's Energy and Environmental Research Center, Dyer said. "Making ammonia is a technology that has been around for 110 years. The challenge in what we're doing is that the equipment is sized for very large production volumes," he explained.  In contrast the sheer size of the facilities used to make nitrogen fertilizer from natural gas, he said, "we're going to be making 20 tons of ammonia a day and 35 tons of urea. Effectively, that is a pilot." Tharaldson Ethanol already has an unused anaerobic digester on site, Dyer added. The 7,000-square-foot fertilizer facility will require about a 2-acre footprint. By Susanne Retka Schill | April 08, 2013

Mastering the field of Finance and Logistics provides leverage and pricing power in any physical commodity business.
However the commercial subsystems specifics to the agricultural world are going well beyond the domains of Finance and Logistics.
Farming  is a land business driven  by different climates, cultures, and technologies.
The Farmer's land forms "the Country" , a social space with a particular spirit; don't tell a farmer that he can't do it by himself/herself because he will do it.
It is somehow difficult for the large-scale industrial agribusiness model to catch the real need and the decision factors of the local farmer.
In the developed world, industrial agriculture based on large-scale mono-culture has become the dominant system of modern farming, although there is growing support for sustainable agriculture.
The value-added solution is always what a farmer wants. Ex:  A More effective N-fixing bacteria strains  N2 =­­­­>NH3 (value-added technology) provides the nitrogen to make the proteins needed for growth, development and accumulation in the seed.
For instance, the use of manure in farming is well-known by farmers since centuries. (Observation)
Manure is nitrogen rich, (M-N Manure-Nitrogen) which makes it a great fertilizer,  using organic sources of nitrogen builds a healthy soil (soil conservation) rather than only feeding the plant… (Biological)
Indeed, organic matter decomposition and the accumulation of humus over time provide for improvements in soil structure and its ability to withstand greater compactive forces (Biological)
With the use of a process called anaerobic digestion,  the nutrient recovery from the farm by-products can be greatly enhanced.  (Analytical)
One solution is to enable the farmer taking the ownership of its market;  Empowering Farmers at the local level and finding an alternative for the nitrogen industry's  natural gas addiction NG-N (Econsystem).
From NG-N to E-N (Ethanol for Nitrogen) the Fertilizer grown by the sun.
A fertilizer grown by farmers with the sun means a more decentralized business model with a low-carbon footprint.
If this technology spread out, it could change the way the fertilizer is priced in farming communities where hundreds of ethanol plants could feed the punctual fertilizer demand.
The idea is also that a small-scale nitrogen-ethanol based plant could remain very competitive within a 50 miles radius, the cheap road freight [20-30$/ton] acts as an entry barrier for the competition coming hundreds miles away. In heavy weight commodities (cement, gravel pit, fertilizer, asphalt…) freight rate assigns a territory to a producer and determines the competition level in a certain radius.
Ethanol Output Products Matrix
The E-N technology is an embedded switch option from the perspective of the ethanol producer.
During the Spring season when Ethanol demand is mild( just before the summer driving season) the winter stored Ethanol could be processed into Nitrogen just in time for the fertilizing purpose.
During the Fall season when Ethanol demand is mild, Nitrogen is important for the grow of the Winter cereal crops.  The ethanol producer could allocate some of its ethanol into fertilizer for the Winter Wheat.
Such profits opportunities are a real demand for Ethanol producers struggling to manage their price risk exposure (and volatility) of their products, feedstock & co-products.
Converting the Ethanol into Nitrogen could provide a new era of marketing options for the Ethanol producer.
More data about this unconventional technology is required to determine the value of this option but where there is volatility; an option has value.
Brazil; the King of Ethanol is short of Fertilizers.
 In Brazil, Fertilizers are a red-hot topic, the country imports about 75% of its nitrogen needs. At the same time the country is also the top sugarcane producer in the world and a global powerhouse in Biofuels-Ethanol. I point out that E-N in Brazil could be a perfect market-match.
Petrobras plans to invest more than $7 billion in nitrogen nutrient capacity through 2017, aimed at more than doubling Brazilian output to 2 million metric tons (mmt). As a result, Brazilian nitrogen import dependency is expected to fall from 75% to 53%.
http://agfax.com/2012/11/16/brazil-independent-of-imported-fertilizers/?goback=%2Egmp_2831050%2Egde_2831050_member_187109990
Conclusion
The assumptions behind the Large-Scale Nitrogen industry are quite simple:
Maximizing the scale size and efficiency of a single plant to produce at lowest cost.
Located the plant near a cheap and abundant source of gas.
Building a world-class supply and distribution chain.
The achievement of this large-scale nitrogen industry to supply the world food production market remains impressive.
However, this model organization is dependent on natural gas, this relationship is somewhat disconnected from the agricultural world.
A nice way to conclude will be; as an agribusiness commercial operator, you work closely with your colleagues to manage the logistics, identify the market opportunities, and understand the risks and benefits around specific procurement, buying and selling, distribution of agricultural commodities.
You use your keen financial senses and deal-making skills to buy and sell commodities you ought to make sure to get an understanding of the farming world spirit. (totally unique)
What are the real needs?  what are the key decision factors ? in your econsystem
Your mission is finding a market model that will grow your organization while also empowering farmers in the marketplace on a large-scale. Think about it!
Lexicon
NG-N; Natural Gas Nitrogen
M-N: Manure Nitrogen
E-N  :Ethanol made Nitrogen
Econsystem: (Business ecosystem)
Interesting readings
http://www.bigpictureagriculture.com/2013/01/u-s-will-again-produce-more-nitrogen-fertilizer-for-agriculture-311.html
http://www.njf.nu/filebank/files/20111208$115430$fil$690c471W7ndX5Ee8BGKF.pdf [Nitrogen fertilizer value of digestates from anaerobic digestion of animal manures and crops]
http://www.epa.gov/agstar/documents/conf12/10b_Dvorak-Frear.pdf [Anaerobic Digestion and Nutrient Recovery]
http://norfolkvabeach.com/wanted-funding-for-clean-water.html [Nitrogen from cities wastewater treatment]
Many business models can be create to take advantage of the markets but only the markets can decide who is the winner at the finish line !
 – The Trade shipping and Finance Wizard
© 2013, The Trade  Shipping and Finance Wizard